Review – Oskar Blues Mama's Little Yella Pils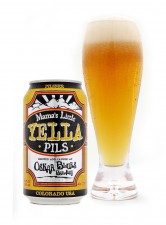 From Oskar Blues Brewing – Our first canned lager is fermented at cool temperatures with a German yeast & finally prescribes a Pils that meets our standards. Look for our Gold Metal Winner on US shelves in March. Sadly, the Feds rejected our "Take Two and Call Us in the Morning" line on the can.
Oskar Blues Brewing – Mama's Little Yella Pils – 12 oz. can poured into a pint glass. 5.4% abv.
Appearance: Pours a clear yellow (yella ?) gold with a nice looking white sudsy head. You will notice visible rising carbonation.
Aroma: Biscuity malt and a small whiff of Euro hops.
Taste: Biscuity malt, bitter hops, pale malts, and a bitter crisp hop finish.
Mouthfeel: Very heavy for a pils. Seems very full bodied, and almost thick. Has a little bit of creaminess to it as well.
Overall: A great easy going lager with no effed up aftertaste.  Because it is an American pilsner in a can, your really looking for some of that sour, corny twang you would find in an American Macro beer. Nope, none of that.