Review – Oaken Barrel Gnaw Bone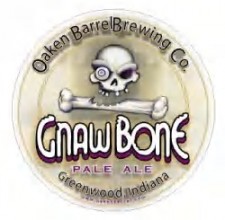 From Oaken Barrel Brewing Co. – Indiana hop heads are singing the praises of Gnaw Bone Pale Ale as it becomes Oaken Barrel's new rising star. With a considerable amount of fragrance hops bestowed upon this sensation, Gnaw Bone backs up its characteristic bitterness and spicy hop flavor with a nose-rattling citrus aroma.
Oaken Barrel Brewing Co. – Gnaw Bone Pale Ale – 12 oz. bottle poured into a pint glass. 5.5% abv. From Josh in Indiana!
Appearance: Pours a cloudy light orange with a pinstripe of white suds.
Aroma: Citrus (orange mostly), dried apricot and sugar.
Taste: Much like the aroma, I get a sugary malt/ citrus burst, followed by some moderate bitter hops.
Mouthfeel: Almost sticky.
Overall: A very malty Pale ale, with some body to it. Perhaps too sweet for a pale ale, a handful more of hops would have served it well. That probably would have taken it into IPA territories.