Review – North Coast Old Stock 2008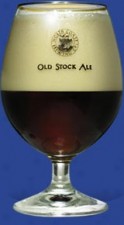 From North Coast Brewing – Like a fine port, Old Stock Ale is intended to be laid down. With an original gravity of over 1.100 and a generous hopping rate, Old Stock Ale is well-designed to round-out and mellow with age. It's brewed with classic Maris Otter malt and Fuggles and East Kent Goldings hops, all imported from England.
North Coast Brewing Co. Old Stock Ale, Vintage 2008 – 12 oz. bottle poured at cellar temp into a tulip glass. 11.7% ABV (as listed on bottle, which is slightly less than what is listed above).
Appearance: Apparently, this requires a very aggressive pour to look like the picture above. This is a garnet-colored ale with a light, cream-colored head. This was also the "noisiest" head I've ever heard from a beer. It almost sounded like soda fizzing away as the head quickly dissipated.
Aroma: Sweet, sweet, sweet! Almost overwhelmingly so with massive butterscotch and caramel notes.

Taste: Not nearly as sweet as the nose (thankfully), but still has plenty of sweetness hit the back of your throat upon first sip. There's a nice hoppy bitterness that follows the swallow and lingers on your lips afterward. The butterscotch disappears to be replaced by darker molasses notes.
Mouthfeel: Thick yet fizzy. This is a strange combination that I've never experienced to this extent in any other beer.
Drinkability: At almost 12%, this is a sipping beer, to be sure.
Overall: For those who search for "dessert beers," this could certainly fit the bill, but it can just as easily be paired with grilled meats or a medium-bodied cigar.