Review – New Glarus Unplugged – Smoke On The Porter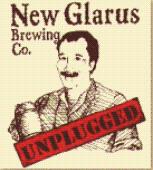 From New Glarus Brewing – Smoke on the Porter began with our neighbors at Hoesly's Meats. Their smoke house aromas waft through our door creating a special kind of decadence that must be shared. Wisconsin barleys were generously cold smoked with apple wood by the Hoesly family. Brewmaster Dan then harnessed dark malts smoked in Bamberg to create a team that steps out as a creamy smooth black brew that will forever linger in your mind as Smoke on the Porter.
New Glarus Brewing – New Glarus Unplugged – Smoke on the Porter – 12 oz. bottle poured into a goblet. 6.1% abv.
Appearance: Pours a midnight brown with a 1/4 inch stripe of tan head.
Aroma: Smoked meat, roasted coffee, semi sweet chocolate, and fresh cut wood.
Taste: Roasted coffee, smokey wood flavor, chocolate, and vanilla. Finishes with a little bit of an acidic twang.
Mouthfeel: Smooth and sparkly.
Overall: A beautiful smoked beer.  You know it's there, it makes the beer stand out, but doesn't overpower. There are lots of other great flavors going on besides the smoke.  I haven't quite fallen in love with some of the smokier rauchbiers, which I compare to liquid bacon.  I do love the idea of liquid bacon, I just wouldn't call it a satisfying beer.