Review – New Glarus Hearty Hop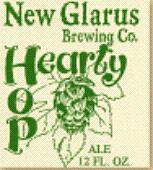 From New Glarus Brewing – Finally, Hop Hearty Ale, the Wisconsin I.P.A. you've been thirsten' for. This ale is brewed with the best of Old and New World Hops. Then we infuse the aging tanks with a dry hop addition of Cascade and East Kent Goldings to bring home the hops!
New Glarus Brewing – Hearty Hop IPA – 12 oz. bottle poured into a pint glass. 6.1% abv. From Robert in Wisconsin!
Appearance: Pours an opaque amber with an offwhite, dense head.
Aroma: Resinous piny hops (my guess is the Cascade).
Taste: Earthy, bitter hops. Some lemony goodness, light malt, and a firm, crisp hop finish.
Mouthfeel: Full bodied, almost creamy, but not quite.
Overall: An awesome, refreshing IPA. Very balanced, yet bold.