Review – New Belgium Mothership Wit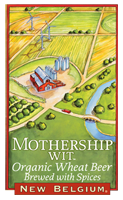 From New Belgium: Our first venture into organically-produced beer, Mothership Wit Organic Wheat Beer elevates the zesty Wit or White beers of Belgium. Our far-flung Beer Rangers affectionately refer to our Fort Collins brewery as the Mothership, a name that conjures images of earth shot from space and the interconnectivity of it all. Mothership Wit is brewed with wheat and barley malt, as well as coriander and orange peel spicing resulting in a balance of citrus and sour flavors held in suspension by a bright burst of carbonation.

New Belgium Mothership Wit: Organic Wheat Beer Brewed with Spices – 12 oz bottle poured into a New Belgium beer glass, 4.8% abv.
Appearance: Poured a banana yellow or a lemon drop yellow with a ring of white bubbles at the top.
Aroma: Cloves, Belgian yeast, banana, coriander and Bazooka bubble gum.
Taste: Starts out a bit tangy, with a tandem of citrus, spices (nutmeg, cinnamon and pepper). Ends with a note of hops that sits on the middle of my tongue.
Mouthfeel: Fizzy, bubbly and refreshing.
Overall: This  beer had all the characteristics of wheat beer that I like, without the characteristics that I don't like.