Review – Harpoon UFO Raspberry Hefeweizen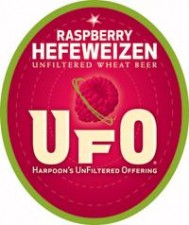 From Harpoon Brewery – We have added natural raspberry flavor to our UFO Hefeweizen to create this beer.  Consistent with the hefeweizen style, this beer is unfiltered and cloudy with a solid foamy head.  UFO Raspberry has a distinctive, hazy rose color.  The scent of fresh raspberries hits the nose immediately, along with a subtle bready aroma from the wheat and yeast.  The body is light and the unfiltered yeast provides a soft mouthfeel.  The taste of the fruit compliments the beer nicely, neither overwhelms the other.  There is a faint sweetness on the palate, which finishes cleanly in a semi-dry, tart finish.
Harpoon Brewery – UFO (UnFiltered Offering) Raspberry Hefeweizen – 12 oz. bottle poured into a glass. 5.1% abv. Purchased as part of a Harpoon Sampler pack at Dawson's Liquor – Severna Park, MD.
Appearance: Cloudy pinkish-orange (looks like fresh-squeezed pink grapefruit juice). A good amount of fizzy, white head (tinged slightly pink by the light passing up through the beer underneath) which dissipates quickly.

Aroma: Raspberry and lemons (the extra acidity from the raspberries brings out the citrus moreso than in the regular hefe).
Taste: Tart raspberries flood your mouth at first, but give way to a slight sweetness in the middle. Finishes dry with lemon zest lingering on your teeth.
Mouthfeel: A slightly thicker mouthfeel than the hefe at first, but finishes just as clean and is just as highly carbonated..
Overall: Again, this is a hefe I can finally recommend. It will satisfy those who like fruitier beers, yet has enough character that a drinker of heavier beers shouldn't turn his/her nose up at it on a hot summer day.