Review – Green Flash Double Stout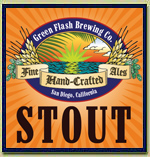 From Green Flash Brewing Co. – Golden naked oats mashed with dark crystal and robust roasted malts create a luscious black brew with satin smooth finish. Layering UK Target hops throughout the boil adds pleasant, earthy complexity while higher fermentation temperatures enhance overall flavor with fruity esters. An old-world style, done the Green Flash way. Big, bold, flavorful and complex.
Green Flash Brewing Co. – Double Stout – 22 oz. bottle poured into a pint glass – 8.8% abv. Purchased at Lone Hill Liquor, Glendora,CA.
Appearance: Midnight brown witha  1/4 inch of frothy tan head.
Aroma: Milk chocolate and malt balls.
Taste: Dark chocolate, coffee, a decent level of spicy hops, smokey malt, dark fruit, and burnt malts.
Mouthfeel: Thick, carbonated, and sticky.
Overall: If I had a 5 star system in place, this would get all five!  I would put this in the same league with Speedway Stout and Stone Imperial Russian Stout. It is that good.