Review – Green Flash Belgian Style Tripel (3rd Anniversary Ale)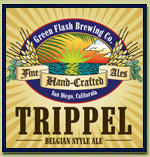 From TFP: A good friend handed me an inherited beer stash. One of the beers was Green Flash 3rd Anniversary Belgian-Style Tripel.  As we all know, this is now a year 'round release from Green Flash.  By my estimation, this beer is 4 years old.
Green Flash Brewing Co. – 3rd Anniversary Belgian-Style Tripel, now known as Green Flash Tripel. Poured into a goblet 9.7% abv. From The Legend 'Scotty Don't'.
Four years later….
Appearance: Pours a deep dark orange with a head that subsides to a thick stripe.

Aroma: Figs, apricot, ginger, lemon.
Taste: Apricot, pear, white grapes, spicy, earthy herbal hops, peach, mango, clove, and other spices.
Mouthfeel: Thick and sticky.
Overall: This beer held up for four years perfectly.  Now I will try one fresh for comparission.