Review – Founders Centenial IPA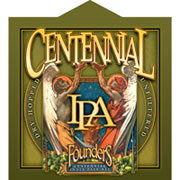 From Founders Brewing – Selected as a benchmark for the Beer Judge Certification Program used in all American based beer judgings. Centennial IPA has quickly become the IPA of choice. Pour yourself a pint of this complex flavorful ale and bask in the frothy head's floral bouquet. Relish the immense citrus accents, achieved by the abundance of dry hopping. This ale's sweet, malty undertones balance the hop character with a finish that never turns too bitter.
Founders Brewing Co. – Founders Centenial IPA – 12 oz. bottle poured into a pint glass. 7.2% abv. Acquired from Josh in Indiana!
Appearance: A cloudy orange/gold with a large, creamy off white head.
Aroma: Piny and bitter hops, in very faint levels.
Taste: Grassy, bitter, earthy, with touches of lemon.
Mouthfeel: Creamy.
Overall: I didn't care for this one. I am particular with my IPA's and Double IPAs, and this one didn't do it for me.