Review – Fort Collins Retro Red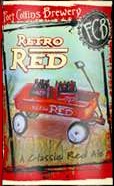 From FCB – This banshee of a red ale is a looker and a taster. English Crystal malts create a toasty, nutty flavor and medium body as Tettnang hops produce an assertive yet balanced hop presence. Retro Red is a treat for your taste-buds as well as your eyes.

The Fort Collins Brewery – Retro Red – 12 oz. bottle poured into a pint glass. 5.2 % abv.
Appearance: Pours a dark, translucent red with a 1/4 inch frothy tan head.
Aroma: Bready malts, caramel/brown sugar and dry leaves.
Taste: Bready malts, moderate hop bitterness, and brown sugar sweetness.
Mouthfeel: Thin yet lingering.
Overall: A sessionable Red with a European profile.