Review – Firestone Walker XXII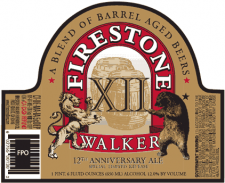 Firestone Walker: Firestone's anniversary series, a unique blend of barrel aged beers, has become quite a phenomenon each year as beer fans from all over the U.S. seek out this special limited release. Last year's release, "Eleven", sold out at the brewery in just over a week and celebrated 11 years of business for the brewery.
Firestone Walker Brewing Co. – XII (12) –  Poured from a 220z. bottle into a Chimay goblet 12% abv.
Appearance: A deep, dark brown with just a hint of ruby.
Aroma: Bourbon, vanilla, fresh oak, a slight whiff of coffee.
Taste: Bourbon, roasted coffee, dark chocolate, vanilla, molasses, a whisper of smoke. Very complex, yet nicely blended.
Mouthfeel: Creamy, velvety, slightly viscous, but not enough to be considered thick.
Overall: Once again, I was impressed. Initially I thought it was too "Over The Top", but that subsided after a few sips, it's a little "Hot" still, from the alcohol, but I'm not shaken. I look forward to another tasting, after its had some cellar time.