Review – Double Bastard Ale – 2008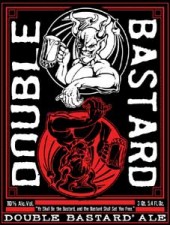 From Stone Brewing Co. – For our tenth year of Doubling your Arrogance, we've replaced the white ink on the bottles with silver. That means all the hoarders, collectors, and stockpilers out there had better start clearing room in the 'fridge or cellar!

Stone Brewing Co. – Double Bastard Ale – Vintage 2008 – Purchased at Dawsons Liquors in Severna Park, MD. Poured from a 22oz bottle into a pint glass. 10.5% ABV.
Appearance: Topaz (maybe a little more red than that), slightly cloudy, nice, thick head that retained nicely. The lacing looks like little bunches of grapes.
Aroma: Very clean. Subtle hints of vanilla and hops, with just the tiniest bit of pipe tobacco.
Taste: Plenty of vanilla and butterscotch on the palate (not quite dessert-like, but present nonetheless) with a bittersweet, hoppy finish. Hints of leather several seconds after the swallow.
Mouthfeel: Creamy; silky.
Drinkability: Unbelievable beer. With subtle sweetness offset by the big hops for which Stone is known, there's something for everyone in this beer. At 10.5%, this is definitely a dessert beer, to be shared with friends sitting around a comfortable fire.
I'd pair this with chocolate-swirl cheesecake or a medium-bodied cigar.