Review – Dogfish Head Theobroma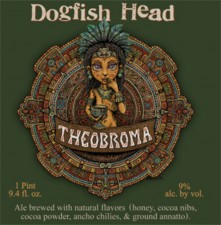 From Dogfish Head – This beer is based on chemical analysis of pottery fragments found in Honduras which revealed the earliest known alcoholic chocolate drink used by early civilizations to toast special occasions.  The discovery of this beverage pushed back the earliest use of cocoa for human consumption more than 500 years to 1200 BC.  As per the analysis, Dogfish Head's Theobroma (translated into 'food of the Gods') is brewed with Aztec cocoa powder and cocoa nibs (from our friends at Askinosie Chocolate), honey, chilies, and annatto (fragrant tree seeds).
Dogfish Head Theobrama – Poured from a 12 ounce bottle into a room temperature pint glass. 9% abv
Appearance
Bright, shiny orange in color with thin hints of amber and a decent amount of haze and floaties.

Aroma
A little spicy roasted chili pepper on the front, followed by a backseat of sweetness and citrusy yeast characteristics. There is a lot going on in the nose.
Taste
A ton and a half of sugary sweetness and rich earthy flavors from the honey – similar qualities to a quality mead. Some spicy hop notes are present but I felt like the malty characteristics that I look for from Dogfish were nowhere to be found. Also, figs, sour cherries and currants.
Mouthfeel
Well-rounded smoothness with an insane amount of gooeyness left behind on the roof of your mouth and the sides of your cheeks.
Overall
My buddy nabbed a few bottles of this limited brew late last summer. I have been letting it mellow in my fridge for the past few months and I am pleased with the end result. Although the sweetness is a little much for my taste, the use of unique ingredients like the cocoa and chilies is impressive. I couldn't see this making a stand on Dogfish's flagship lineup but it should do well as a limited release.