Review – Dogfish Head Aprihop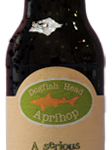 From Dogfish Head – A strong IPA brewed with real apricots and finished with whole leaf Willamette and Cascade hops.
Dogfish Head Craft Brewery – Aprihop – 12 oz. bottle poured into a pint glass. 7% abv.
Appearance: Pours a clear, copper red with a dense off white head. Lots of visible carbonation.
Aroma: A bold whiff of apricots (heh, who would have thought), car air freshener, and a little potpourri.
Taste: Tart apricot, apricot pit, and a little bit of hop bitterness.
Mouthfeel: Juicy.
Overall: What more can I say, it's an apricot soda.  Refreshing and interesting.