Review – Clipper City Pale Ale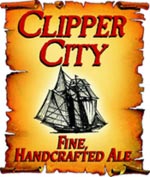 From Clipper City – As a counterpoint to the Gold, our Pale Ale is distinctly British in character with a firm malt character and a crisp, angular hop finish. Amber in color with a nice earthy aroma.
Clipper City Pale Ale – Poured from a 12 ounce bottle into a room temperature oval pilsner glass. 4.9% abv
Appearance
Mellow gold in color with traces of sunny yellows and tarnished brass. Particularly large head sits at least three fingers on top.

Aroma
Fresh cut pine trees and forest debris, reminding me of Christmas time or being in a forest that has been clear cut.
Taste
Excellent hop flavor with tons of citrus, grass and resin qualities. The pale malts are obvious but are purposely overshadowed by the Fuggle hops, typical in any good pale ale.
Mouthfeel
Slightly heavy-bodied for this style but still very drinkable. Not overly carbonated but enough to keep you from chugging away.
Overall
With everyone trying to produce the newest and most outlandish IPA on the block, I find Clipper City's Pale Ale to be a welcome mainstay in this category. I love the fact that this hoppy beer does not overwhelm the senses with tons of hops and is still able to let the malt shine through. Thanks go out to the kind folks at Clipper City for making such a great beer. I will certainly be checking my local brew store's stock and plan to conserve some space in the beer fridge for some of these bad boys.