Review – Ballast Point Tongue Buckler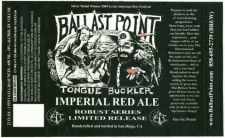 From Ballast Point Brewing – Prepare to walk the plank to an Ale of overwhelming proportions. More hops, more malt than any land lubber can handle. After this experience.. your tongue will be of no use to you.
Ballast Point Brewing – Tongue Buckler Imperial Red Ale – 22 oz. bottle, poured into a pint glass. 10% abv. Purchased at Lone Hill Liquor – Glendora, CA.
Appearance: Pours a dark, yet clear amber with an impressive, dense creamy head.
Aroma: Danky and sweet hops, sweet malts, and rock sugar candy.

Taste: Peppery bitterness, sugary sweetness, finishes with an ultra agressive level of more hop bitterness and a sticky sweet grainy finish.  Also of note, flavors that remind me of hot alcohol like Gin or Whiskey.
Mouthfeel: Thin yet sticky.
Overall: I have a feeling this beer grew up with Double Bastard, or atleast they went to summer camp together.  Very bitter, very spicy, not too sticky, and dangerously drinkable after the first few sips, due to its sweetness.