Review – Avery Collaboration Not Litigation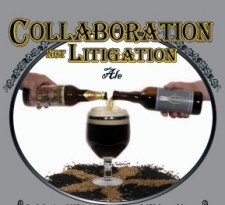 I have had the privilege of having this beer on many occasions. My good buddy, Chef Brian Nelson bought me my first bottle last year, as a gift. When I tried it, it was "just" a brown Belgian ale to me. I had it a few times since then on tap at Lucky Baldwins in Pasadena, and then picked up this years batch, for review at Whole Foods Market in Los Angeles. Here is the story behind it, for those who don't know:
Salvation. The name of two intricate Belgian-style ales, created by us – Vinnie Cilurzo of Russian River Brewing and Adam Avery of Avery Brewing. After becoming friends a few years ago, we realized that we both had a Salvation in our line-ups. Was it going to be a problem? Should one of us relinquish the rights? "Hell no!" we said. In fact, it was quickly decided that we should blend the brews to catch the best qualities of each and create an even more complex libation.
In April 2004, in top-secret meeting at Russian River Brewing (well actually it was packed in the pub, and many were looking over our shoulders wondering what the hell was going on), we came up with the perfect blend of the two Salvations. Natalie, Vinnie's much more significant other, exclaimed, "We should call this Collaboration, not Litigation Ale!" "Perfect!" we shouted. We celebrated deep into the night, (or is it morning?). Fast forward to November 14, 2006. After talking about it for over 2 years we finally decided to pull the trigger and Vinnie flew out to Avery to brew his Salvation exactly as he does in his brewery. This was blended with Avery's Salvation December 11th, 2006. We hope you enjoy it as much we enjoyed brewing and blending it.
Fast Forward to 2008. After incredible demand from fans of beer across the country Avery and Russian River have teamed up to do it all again. This year's batch will become available mid February, marked by a release party at the Avery Brewing Co tasting room, Boulder Colorado 2/12/2008.
All profits from this joint venture will fund a return educational trip to Belgium with our bros Tomme (Port Brewing), Sam (Dogfish Head Brewing) and Rob (Allagash Brewing). This pilgrimage will enable us to learn even more about traditional brewing techniques to combine with our already strange and unique styles here in America. Gezondheid!
Avery Brewing Co.'s Collaboration Not Litigation Ale Batch #2 Bottled February 2008, reviewed August 2008. Poured into a pint glass. 8.72% abv.
Appearance: A dark, brownish orange.  Tight knit, off white head, which retains about 1/2 inch throughout. Very cloudy.
Aroma: Sour smells, whether it be fruit or yeast. Baked bread is there. If fermentation is an aroma property, I would like to add that as well =-)
Taste: Spicy hops, Belgium yeast, and bread crust.  Finishes very bitter.
Mouthfeel: Full bodied, and a tad tangy.
Overall: The sour years flavors are starting to really come out in this beer.  I have had this beer fresh, and I have had Avery's Fifteen fresh.  This has changed in only 6 months.  It is very tasty and complex.  I have puzzled myself as to whether Fifteen has changed my tongues view on Avery beer or I am in fact right; this beer's sour characteristics are more apparent with age.