Review – Allagash Curieux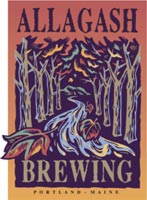 From Allagash Brewing – In October of 2004, we released the first beer in our series of Barrel Aged beers, Allagash Curieux. To make the Curieux (French for "curious"), we age our Tripel Ale in Jim Beam barrels for 8 weeks in our cellar. During the aging process in bourbon barrels, the beer is totally transformed, and many new flavors and aromas develop. Most notably, the beer picks up soft coconut and vanilla characteristics…and also a hint of bourbon flavor!
Allagash Brewing – Allagash Curieux – 750ml. corked and caged bottle poured into my New Belgium glass. ~9-11% abv. Purchased at Beverages and More, Pasadena,CA.
Appearance: Resembles a murky apple cider with a tight pinstripe head.
Aroma: Bourbon barrel, apricot and musk.
Taste: Bourbon, raisins, dark fruit, vanilla, wood and more booze.
Overall: A bourbon bomb of a different kind. Highly enjoyable, highly flavorful, and surprisingly worth the $15.00.