Review – Alesmith Decadence 2008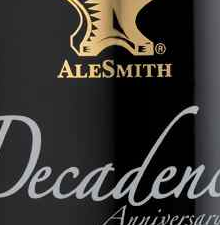 From Alesmith Brewing – Each year the brewers at AleSmith brew up a new beer to commemorate our Anniversary. This year's release, Decadence 2008, is an English-Style Barleywine. Full-bodied and overflowing with flavors of caramel and toffee, this English ale was made with the finest floor-malted barley, English hops and top-cropping English yeast to create a truly "old world" experience. Topping off at 11% abv, this Barleywine is a richly complex sipper and was made to excel with age.
Alesmith Brewing Co. – Decadence 2008 – 750 ml bottle poured into a goblet. 11% abv. Purchased at Whole Foods Market, Arroyo – Pasadena, CA. (Click image for entire bottle picture)

Appearance: Pours a rootbeer brown with a ring of dense foam at the top.
Aroma: Dried fruit, spiced apples, chocolate, and caramel.

Taste: Chocolate, caramel, chocolate covered cherries, some burnt sugar. Has some sort of berry twang to it, the makes way for a bitter sweet finish with plenty of hop spice.
Mouthfeel: Full bodied and sparkly.
Overall: A unique, "decadent" dessert beer. Luxurious, rich caramel and chocolate flavors, that still lets me know its a beer.  I'm not going to recomend whether to sit on this or not, as it is damn good as it is fresh.