Port Brewing Panzer Imperial Pilsner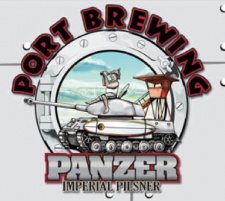 From Port Brewing – Like you, we love hops too. Released each August, Panzer Pils is a stronger, more robust version of a traditional German Style Pilsner brewed with Tettnang and Saaz hops.
Port Brewing Co. – Panzer Imperial Pilsner – 22 oz. bottle poured into a pint glass. 9.0% abv. Purchased at Beverages and More in Pasadena, CA.
Appearance: Pours a cloudy dull pastel yellow with a pin stripe of white foam at the top.

Aroma: Lemon zest and dry bready malt.
Taste: Light honeysuckle and lemon drop sweetness, finishing with a bold spicy bitter hop.
Mouthfeel: Thick and full bodied. Not sticky nor syrupy.
Overall: Wow. I've been scared to try a beer close to this style. I did not like Samuel Adams Imperial Pilsner, and I'm not a huge fan of classic pilsner.  This beer is fucking magnificent.  Bold yet balanced.