Pipeworks Tired Hands MariLime Law Ninja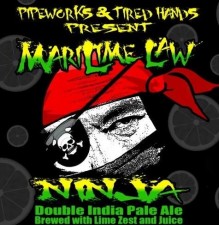 From Pipeworks – Collaboration with Tired Hands Brewing Company. This 8% imperial IPA was brewed with fresh lime zest and juice as well as Simcoe and Amarillo hops. A great beer for all things summer.
Pipeworks Brewing – Pipeworks / Tired Hands MariLime Law Ninja – 22 oz. bottle poured into a goblet. 8% abv.
Appearance:  Pours a bright yellow gold with a soapy head.
Aroma:  Huge lime lollipop and pine.
Taste:  Bitter lime zest, pine. A little tart. Spicy malt. Very close to lime aid territory. Alcohol is well hidden.
Mouthfeel:  Low carb. Full bodied.
Overall:  A very fun, non-offensive tasty experience.  The lime is the star of this show as you can tell by my notes. It didn't seem gimmicky or artificial, and tasted nothing like a Mexican beer with lime in it, just to be clear.