Peak Organic Fall Summit Ale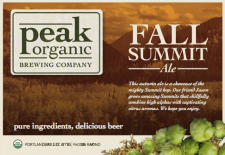 From Peak Organic – This autumn ale is a showcase of the mighty Summit hop. Our friend Jason grows amazing Summits that skillfully combine high alphas with captivating citrus aromas. We hope you enjoy.
Peak Organic Brewing – Peak Organic Fall Summit Ale – 12 oz. bottle poured into a pint glass. 5.9% abv.
Appearance: Pours a translucent auburn with a creamy film of white atop.
Aroma: Brown sugar, maple sugar, ginger and cinnamon.
Taste: Toast and maple sugar.
Mouthfeel: Thin and modest carbonation.
Overall: It was ok. Not that memorable and nothing I'd buy or drink again.