Oskar Blues Whiskey Barrel Aged Ten FIDY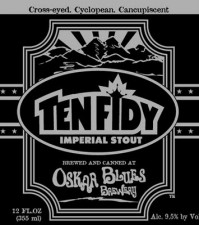 From Oskar Blues – Ten FIDY's huge-but-comforting flavors hide a hefty 10.0% and 98IBU. This version is aged in whiskey barrels from Stranahan's Colorado Whiskey (Denver, CO) to create an even trippier extreme beer.
Oskar Blues Brewery – Oskar Blues Whiskey Barrel Aged Ten FIDY – On tap at Stone Oakquinox 2012 – ~9-10% abv.
Appearance:  Pours a viscous dark brown No swirls no head no lace.
Aroma:  Chocolate, whiskey, vanilla and leather.
Taste: Char and chocolate right away. Whiskey,vanilla, and chocolate cereal.
Mouthfeel: Full bodied with very low carbonation.
Overall:  I'm a huge fan of Ten FIDY. It's so full of life and flavor.  This barrel aged treatment took away some of its liveliness and didn't really improve upon any aspect of the beer.  I've been chasing this "tick" for years, glad I did, but I'm happy knowing the superior product is in the 4 pack of cans and not the whiskey barrel.