Olde Hickory Imperial Stout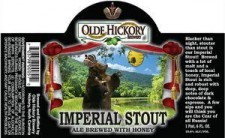 From Olde Hickory – Blacker than night, stouter than stout is our Imperial Stout. Brewed with a lot of malt & a touch of honey, Imperial Stout is rich & robust with deep, deep notes of dark chocolate & espresso.
Olde Hickory Brewery – Olde Hickory Imperial Stout – 22 oz. bottle poured into a goblet. 10.5% abv. From Online trade.
Appearance:  Pours dark brown with tight tan bubbles.
Aroma: Dusty cocoa like malt and wet dog like roasted malts.
Taste: Burnt roast cocoa vanilla. Ashes and coffee. Finishes roasty. Not that sweet.
Mouthfeel: Full bodied decently carbonated.
Overall: The word honey triggers a special sensation in my brain, and I immediately think of it's sweet, goey goodness. I was looking for just a touch and unfortunately didn't find it.  While decent, I wouldn't trade too hard for it.