Odell St. Lupulin Extra Pale Ale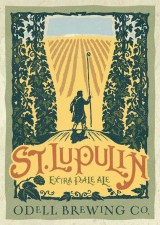 From Odell – A mystic legend echoes in our brewhouse – that of St. Lupulin the archetypal hophead. He devoted endless summers to endless rows of hops, tending to the flowers and the beloved resin within – lupulin. Extraordinary oils in this yellow resin provide this dry-hopped extra pale ale with an undeniably pleasing floral aroma and clean, crisp finish. One sip of this seasonal summer ale and you, too, will believe.
Odell Brewing – Odell St. Lupulin Extra Pale Ale – 12 oz. bottle poured into a gobet. 6.5% abv.
Appearance: Pours a vibrant hazy yellow gold with a retaining white cap  of foam.
Aroma:  Big danky hops and citrus peel.
Taste:  Bitter piney hops. Pale malt. Nice yeast spice.
Mouthfeel:  Full bodied, modest carbonation.
Overall:  A solid, tasty, hoppy pale ale with great aroma.