Odell Bourbon Barrel Stout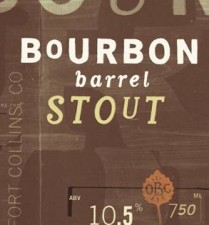 From Odell Brewing Co. – Aged for four months in bourbon barrels from the Buffalo Trace distillery in Kentucky, the Bourbon Barrel Stout is a robust yet balanced beer. Roasted malts give it a chocolate and coffee overtone, and the oak creates hints of vanilla and caramel. At 10.5% ABV, this stout pairs well with smokey barbeque sauce or even rich desserts.
Odell Brewing Co. – Bourbon Barrel Stout – 750 ml. bottle poured into a goblet. 10.5% abv.
Appearance: Pours a dark brown with a frothy foamy tan head.
Aroma: Dark chocolate, roasted malts, vanilla notes and a touch of boozy bourbon and a slight woody note.
Taste: A mixture of chocolate and warming bourbon right off the bat. Roasted malts and dark chocolate. Finishes with spicy hops and a slight woody barrel note.
Mouthfeel: Fizzy and medium bodied.
Overall: A nice bit of bourbon, but not much wood.  I was expecting this to be thicker and woodier, but wasn't disappointed with what I did find. Odell has yet to disappoint me with anything they have packaged in their corked and caged 750's.