Oakshire Overcast Espresso Stout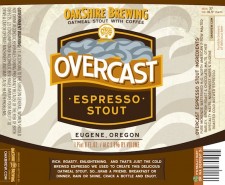 From Oakshire Brewing – Gray skies are a regular part of life in Western Oregon. Overcast Espresso Stout is the dark and silky stout we crave while giving us the shot of organic espresso we need.
Oakshire Brewing – Oakshire Overcast Espresso Stout – 22 oz.bottle poured into a goblet. 5.8% abv.
Appearance: Pours a dark brown with a few tan suds and swirls.
Aroma:  Medium roast prepared coffee with sugar.
Taste: Black coffee with sugar. Roasted malts.
Mouthfeel: Full bodied with a moderate carbonation level.
Overall: A coffee beer that doesn't piss me off. Love coffee, love stout, but not always together. This one jived well with itself and me.