North Coast Scrimshaw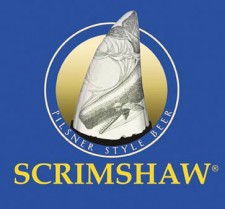 From North Coast Brewing – Named for the delicate engravings popularized by 19th century seafarers, Scrimshaw is a fresh tasting Pilsner brewed in the finest European tradition using Munich malt and, Hallertauer and Tettnang hops. Scrimshaw has a subtle hop character, a crisp, clean palate, and a dry finish.
North Coast Brewing – Scrimshaw Pilsner – 12 oz bottle poured into a pint glass. 4.4% abv. Purchased at Trader Joe's Monrovia, CA.
Appearance: Pours a clear yellow gold with an amber tint. Atop sits a foamy white head.
Aroma: Husky, grainy and biscuity.

Taste: Dry biscuit, bready, a little grainy, finishes with a twang.
Mouthfeel: Medium bodied with moderate carbonation.
Overall: I didn't find this beer to be crisp and vibrant, and I think if I drink this again, I will try it ice cold.