New Glarus Unplugged Cherry Stout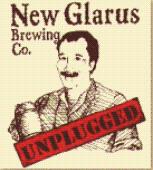 From New Glarus Brewing – Due to popular demand New Glarus Brewing Company brought back Dan's Gold Medal winning "Unplugged Cherry Stout." This ale is aged in Oak barrels to promote the spontaneous fermentation. Eight Wisconsin malted barleys combined with Wisconsin Montmorency Cherries make for a complex and sublime taste experience that you may never find again.
New Glarus Brewing – Unplugged Cherry Stout – 12 oz. bottle poured into a goblet. 6.5% abv.
Appearance: Pours a midnight red that let's in 0.0001 % light through. Leaves a fizzy white pinstripe throughout the entire time of enjoyment.

Aroma: Black Cherry Soda (Franks from Philly anyone?). A light bit of milk chocolate as well.
Taste: Sweet cherry pie filling, cherry pits, a quick chocolate note, finishing with modest hop spice.
Mouthfeel: Medium bodied and very fizzy.
Overall: There is nothing stout like about this beer, even by appearance. With that said, I put this in the AWESOME category along with Wisconsin Red and Wisconsin Cran-bic.