New Glarus Two Women Lager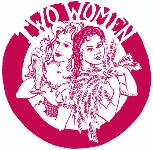 From New Glarus – Four thousand years before Christ, Sumerian women created the divine drink of beer. Viking women brewed in Norse society. European Ale Wives were so successful as cottage brewers they were taxed. Artisanal women lost their domination of the daily ritual of brewing during the Industrial Revolution. Today's brewing trade is controlled by men.  The collaboration of two Craft companies both led by women, New Glarus Brewing and Weyermann Malting, is unique. You hold the result "Two Women" a Classic Country Lager brewed with Weyermann's floor malted Bohemian malt and Hallertau Mittelfrueh hops. A tempting and graceful classic lager found…Only in Wisconsin!
New Glarus Brewing – New Glarus Two Women Lager – 12 oz. bottle poured into an imperial pint glass. 5% abv.
Appearance: Pours a dark amber gold with visible rising bubbles within the body and only a thin white film for head.
Aroma: Molasses, honey nut cheerios.
Taste: Fruity esters, euro hop bitterness. Finishes with a good deal of burnt toast.
Mouthfeel: Medium bodied with average carbonation.
Overall: A decent, toasty lager.