New Glarus Thumbprint Series Barley Wine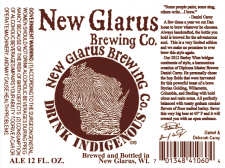 From New Glarus – A few times a year we cut Dan loose to brew whatever he chooses. Always handcrafted, the bottle you hold is brewed for the adventurous soul. This is a very limited edition and we make no promises to ever brew this style again. Our 2012 Barley Wine bridges continents of style, a harmonious creation of Diploma Master Brewer Daniel Carey. He personally chose the hop fields that were harvested for this powerful beast of a brew. Styrian Golding, Willamette, Columbia, and Sterling with bold citrus and resin notes. All perfectly balanced with toasty graham cracker flavors of floor malted barley. Savor this very big beer at 45° F and it will reward you with an open embrace.
New Glarus Brewing – New Glarus Thumbprint Series Barley Wine – 12 oz. bottle poured into a goblet.
Appearance:  Pours a translucent amber orange with a sturdy 1/4 inch tight white cap.
Aroma:  A hoppy bouquet of pine and grapefruit essence as well as fresh peach.
Taste:  A very West Coast/American Barleywine. Better than most attempts at a double IPA. Big bitter, abrasive hops, semi sweet malt, some dried apricot. Some alcohol burn is present. Bitter finish that doesn't linger all that long, inviting you for more.
Mouthfeel: On the thin side for a barleywine.  This is more like the viscosity of an IPA.
Overall: A fantastic hoppy ale, but even by American Barleywine standards, a little thin.  I would drink this fresh, to capture the beautiful hop profile.