New Glarus R & D Bourbon Barrel Kriek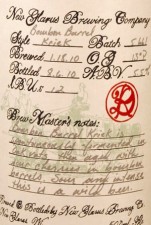 From New Glarus – Ale infused with a large dose of sour cherries. Fermented in an Oak Vat using a blend of Ale Yeast and Lactobacillus. Then aged in freshly dumped bourbon barrels. Strongly Sour with intense cherry overtones married to oak and bourbon character.
New Glarus Brewing- New Glarus R& D Bourbon Barrel Kriek – 12 oz. bottle poured into a goblet. 5.5% abv.
Appearance: Pours a dark clear amber with a creamy frothy white head.
Aroma: Big bourbon and barrel notes, dates, cherry pie filling.
Taste: Sweet caramel, oak barrel, white chocolate, cherry pie filling.
Mouthfeel: Prickly carb, syrupy.
Overall: Really great. Love the bourbon added to what would be an amazing beer on its own.