New Glarus Hopster
From New Glarus Brewing – This living beer is Dan's bold Hopped Wheat creation. You hold the return of Crack'd Wheat the marriage of a sophisticated Bavarian Hefeweiss and an American Pale Ale. Amarillo dry hopping consorts with Wisconsin Red Wheat. Traditional Open Top fermentation cultivates our proprietary Bavarian Weiss yeast in our dedicated Wheat Beer Cellar. Absolutely 100% natural bottle conditioned this is a Living beer.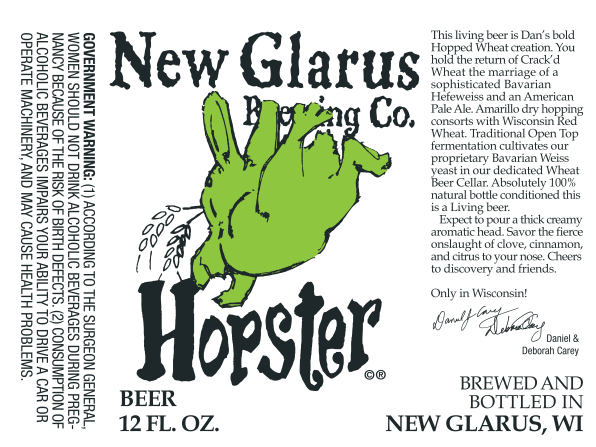 New Glarus Brewing – New Glarus Hopster – 12 oz. bottle poured into proper glassware – 5.9% abv.
Appearance:  Pours a slightly hazy amber gold. Starts with a pillowy white head that shrinks down to a respectable cap.
Aroma: Big, straight forward wheat beer notes: banana and spice. Once you get past that, you will get some citrus and herbal hops.
Taste:  Bitter hop, clove, citrus rind and pith. Bready finish.
Mouthfeel:  Full bodied, creamy carbonation.
Overall:  Despite the name and description from the brewery, there isn't a balance between American Pale Ale and Hefeweiss. With that said, this is a solid, highly flavorful and delicious wheat beer.