New Belgium Shift Pale Lager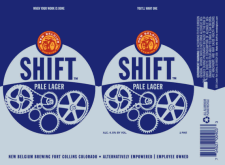 From New Belgium – New Belgium employee-owners work in shifts to brew to life world-class beers. Those efforts are rewarded daily with a shared end-of-shift beer. We're passing that welcomed occasion onto consumers in this lightly-hopped Shift Pale Lager. From work to play, from bottle to can, from bold and heavy to refreshing and sessionable; Shift salutes the shift in occasion, package and beer. So, go ahead and get your Shift beer, you've earned it!
New Belgium Brewing – New Belgium Shift Pale Lager – 16 oz. can poured into a goblet. 5% abv.
Appearance:  Pours a bright translucent amber gold with a thin white head.
Aroma:  Perfumy yeast, light Euro hop and sweet grain.
Taste:  Pale malt, spicy, slightly fruity , finishes with quick but sturdy crisp hop bitterness.
Mouthfeel:  Medium bodied with average carbonation.
Overall:  A gourmet pale lager. All notions of what a lager is/should be have been thrown out the window. A lot of the things you don't like about pale lagers are gone and replaced with fresh hop flavor and fragrant New Belgium house character.