New Belgium Lips of Faith Peach Porch Lounger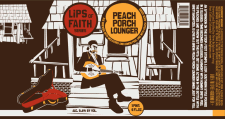 From  New Belgium – Peach Porch Lounger is the lovechild Saison of musician G. Love and New Belgium. The glowing orange beer is a groovy mix of peaches, hominy grits, molasses and lemon peel with pale and biscuit malts. Brettanomyces yeast brings a bold, sweet nose and the beer ends with a dry finish.
New Belgium Brewing – New Belgium Lips of Faith Peach Porch Lounger – 22 oz. bottle poured into a goblet. 9.4% abv
Appearance:  Pours a clear amber orange with a thin micro film.
Aroma: Perfumy belgian yeast, fresh steaped grain, flowers.
Taste:  New Belgian yeast, canned peach low hop spice. Alcohol well integrated/hidden.
Mouthfeel: Juicy, full bodied.
Overall: There wasn't nearly as much complexity perceived compared to what was described by NB on this beer. With that said, on its on, it's a very drinkable Belgian Ale.  Would have liked it tart like Eric's Ale, an amazing peach beer of Lips of Faith past.