New Belgium Lips of Faith Cocoa Mole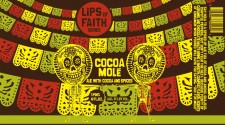 From New Belgium Brewing – Say hola to a spiced up ale full of cocoa and ancho, guajillo, chipotle peppers. But don't fear the heat, because plenty of caramel and chocolate malts bring a smooth, complex flavor. Scents of cinnamon when poured will have your saying "¡Ole For Mole!"
New Belgium Brewing – New Belgium Lips of Faith Cocoa Mole – 22 oz. bottle poured into a goblet. 9% abv.
Appearance: Pours a very dark red with a thick tan ring.
Aroma: Cinnamon, cocoa, chili, bread dough, sassafras.
Taste: Dry semi sweet cocoa, cinnamon, vanilla, sugar, sassafras, chili pepper. Fairly hidden alcohol presence.
Mouthfeel: Thin side of medium, pepper heat.
Overall: Awesome flavor profile. I think the only thing I could critique it on is is the viscosity.  I would have liked a bit more body. I'm amazed this was 9%, as it drank more like a 6-7% beer at the most. If you liked the profile on Stone 11.11.11 or even Hunahpu, you'll enjoy this as well.