New Belgium Hoptober Golden Ale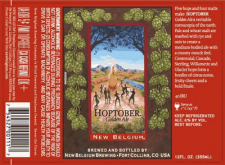 From New Belgium Brewing – Five hops and four malts make Hoptober Golden Ale a veritable cornucopia of the earth. Pale and wheat malt are mashed with rye and oats to create a medium-bodied ale with a creamy mouthfeel. Centennial, Cascade, Sterling, Willamette, and Glacier hops form a bonfire of citrus notes, fruity cheers and a bold finale.
New Belgium Brewing – Hoptober Golden Ale – 12 oz. bottle poured into a pint glass. 6% abv.
Appearance: Pours a clear vibrant yellow gold with a sliver of white froth at the top.

Aroma: Sweetness and fragrant hops. I can definitely smell the Cascade and Centennials. Slightly herbal.
Taste: A mixture of sweet caramel and dry biscuity malts finishing with a mixture of slight citrusy and bitter hops. Everything is perfectly balanced.
Mouthfeel: Medium bodied and creamy.
Overall: I have never tasted a beer quite like this for a Pale Ale/Golden Ale. While not too heavy and complex from a far, there are plenty layers and components to discover and enjoy.