Midnight Sun Berserker Imperial Stout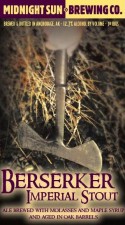 From Midnight Sun – Vicious and viscous, this menacing brew pours opaque black with a creamy maduro-colored head. Its aroma offers seductive whiskey, chewy red wine, dark fruit and lavish tobacco. Berserker Imperial Stout invades your taste buds with in-your-face flavor. Weighing in at almost 13% alcohol by volume, Berserker is completely out-of-control. Give it a good fight.
Midnight Sun Brewing – Berserker Imperial Stout – 22 oz. bottle poured into a goblet. 13% abv.
Appearance: Pours a midnight brown with a khaki ring around the top.

Aroma: Molasses, chocolate, licorice, tobacco and vanilla.
Taste: Spicy hops, licorice, dark chocolate, vanilla, wood, bark, and a little touch of smoke.
Mouthfeel: Thick, border lining syrupy.
Overall: A nice complex, sweet and spicy Impy.