Lost Coast Downtown Brown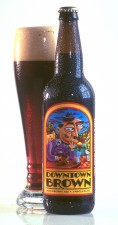 From Lost Coast Brewing – A smooth, full-bodied nut brown ale,lightly hopped with a hint of roasted and crystal malts. This ale is dark in color without the heavy taste of porter or stout.
Lost Coast Brewing Co. – Downtown Brown – 12 oz. bottle poured into a pint glass. 5% abv. Purchased at Whole Foods Market Pasadena,CA
Appearance: Pours a clear dark mahogany that lets about 10% light through. No head to be found.
Aroma: Roasted malts, toffee and a touch of prepared coffee in the nose.

Taste: Moderate roasty malts, cocoa and a faint spicy hop finish.
Mouthfeel: Thin and fizzy.
Overall: If you are at a restaurant or bar, and you like New Castle, you will love this.  Much more character than New Castle by far. For me personally, I don't drink this style much, I like something a bit heartier like a stout or a heavy porter even.  If you are going for the long haul, this may be for you.