Knee Deep Hoptologist DIPA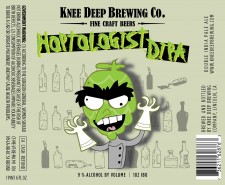 From Knee Deep Brewing – An American Double India Pale Ale that packs a punch when it comes to hops.  The aroma and flavors will give you citrus and pine with a slight malt sweetness that finishes dry.
Knee Deep Brewing – Knee Deep Hoptologist DIPA – 22 oz. bottle poured into a goblet. 9% abv. From Certified Market Monrovia, CA.
Appearance: Pours a clear anber Gold with a lasting white film.
Aroma: Pineapple mango orange pine.
Taste: Very sharp earthy hop bitterness, dry malt, alcohol. Lingers for days.
Mouthfeel:  Full bodied. Moderate carbonation.
Overall: For those who like a dry double IPA, this is your beer.  Super hoppy, fairly dry, very bitter.