Kern River Citra DIPA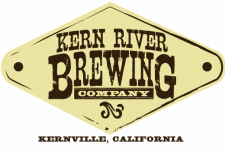 From The Full Pint – Whenever we roll to The Bruery or Bootleggers in Orange County, we usually bump into a great group of guys who have some rare beers to share. We try to come prepared with our own ammo, however these guys usually trump us handily with some real treats. A month or two ago, we were lucky enough to try a fresh as can be glass of Kern River Citra DIPA. Needless to say, it was the star of the night.
Kern River Brewing – Kern River Citra DIPA – From Growler to Glass – 8% abv. Thanks Kev!
Appearance: Pours a cloudy peach with a creamy cap of foam.
Aroma: Humongous, mind blowing tangerine, dank, mango passion fruit and funk.
Taste: Bitter, danky that some how fades down to tame citrus. No sign of booze.
Mouthfeel: Full bodied, fizzy.
Overall: One of my favorite styles in general, this was amazingly dry hopped, easy to drink, and not boozy at all. Please bottle this Kern River.