Jackie-O's Bourbon Barrel Aged Dark Apparition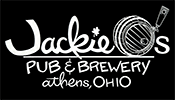 From Jackie O's – Russian Imperial Stouts are one of my favorite styles of beer and Dark Apparition is with out a doubt my favorite beer to brew. We stuff 850lbs of malt into our 7bbl mash tun. By the end of the mash dark malts are spilling onto the brew house floor. I wanted this beer to include all the great flavors I admire in my favorite Russian Imperial Stouts chocolate, coffee, roast, dark fruit, caramel, and some nice earthy/spicy hop character. The color is midnight black and the body is extremely chewy and dextrinous. Dark Apparition is a huge beer with tons of character.
Jackie O's Pub and Brewery – Jackie O's Bourbon Barrel Aged Dark Apparition – 22 oz. hand bottle poured into a goblet. 10.5% abv. Shared by @BMan1113VR .
Appearance: Pours a midnight brown with a dense sudsy head. Leaves a nice coating on the glass.
Aroma: Sweet vanilla, graham cracker, chewy caramel squares.
Taste: Vanilla, bourbon, dark roast and chocolate.
Mouthfeel: Thick, sticky. Mild carbonation.
Overall: Pretty amazing. Super decadent. One of the better BA Impy's I've had in a while.