Ithaca Excelsior! Brute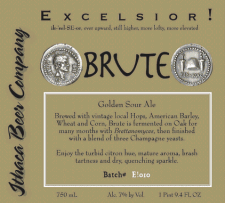 From Ithaca – Brewed with vintage local Hops, American Barley, Wheat and Corn, Brute is fermented on Oak for many months with Brettanomyces, then finished with a blend of three Champagne yeasts. Enjoy the turbid citron hue, mature aroma, brash tartness and dry, quenching sparkle.
Ithaca Beer Company – Ithaca Excelsior! Brute  – 750 ml bottle poured into a goblet. 6.5% abv. From Online trade
Appearance: Pours a cloudy amber gold with a decent foamy head that subsides to a thin white film.
Aroma: Acidic funkiness, barnyard and lemon.
Taste: Tart lemon, wood tannins, faint spicy bitterness. White wine, wheaty malt and tons of brett. The kind of brett I appreciate, not the industrial metallic kind I dislike.
Mouthfeel: Full bodied with lively carbonation.
Overall: Very well done, complex, sour, tart and lively. I feel very fortunate to have tried this.