Hoppin' Frog Bodacious Black and Tan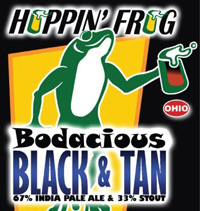 From Hoppin' Frog Brewing – I.P.A. and Stout converge for a really great flavor combination! The assertive, hoppy character of our Hoppin' To Heaven I.P.A. is perfectly complimented by the intense, deep roasted taste of our B.O.R.I.S. Oatmeal-Imperial Stout.
Hoppin' Frog Brewing – Bodacious Black and Tan – 22 oz. bottle poured into a pint glass. 7.6% abv. From Josh in Indiana!
Appearance: Pours midnight brown with a tan ring at the top and a few swirls.
Aroma: A nice mix roast, coffee, chocolate, and even a little bit of minty herbal hops.

Taste: Chocolaty roast, bitter coffee. Finishes with chocolate and dark fruits.
Mouthfeel: Perfectly carbonated, and slightly creamy.
Overall: A really great beer.  Nice amounts of roast, and a moderate level of hoping. The beer isn't too boozy, which is fine by me.