Hoppin Frog Barrel Aged BORIS Royale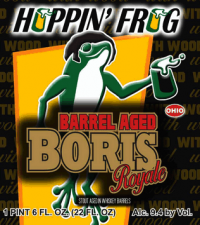 From Hoppin' Frog – This special version of Barrel Aged BORIS was aged in very special Canadian Whiskey barrels, instead of Kentucky Bourbon barrels. What you get is a crisper, cleaner character imparted, from the barrel aging, which is a refreshing twist on this specialty – our highest rated beer.
Hoppin' Frog Brewery – Hoppin Frog Barrel Aged BORIS Royale – 22 oz. bottle poured into a goblet. 9.4% abv.
Appearance: Pours a dark brown with a thin white film of head.
Aroma: Big roasted malt, vanilla, whiskey and whiskey soaked wood.
Taste: Booze infused coffee, burnt roast, whiskey, ashes. Crown Royal very apparent.
Mouthfeel: Medium bodied, warming.
Overall: Fairly tasty, very hot and boozy, just like Crown Royal.