Hangar 24 Local Fields: Polycot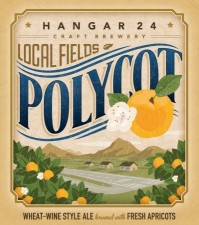 From Hangar 24 – Polycot is a wheat beer brewed with hundreds of pounds of organic apricots grown in Southern California's High Desert. We brew this beer during the very small window of time when the apricots are at their peak of freshness, usually early July. The pureed apricots add a wonderful fruit flavor to the beer and combine with the wheat for a refreshing tart finish. This beer goes down smooth, but at over 1.5 times the alcohol of the Orange Wheat, it will sneak up on you.
Hangar 24 Craft Brewery – Hangar 24 Local Fields: Polycot On tap at the brewery – 7.2% abv.
Appearance: Pours a bright yellow gold with a small white film.
Aroma:  Citrus bouquet. Apricot. Beautiful.
Taste:  Fruity tangy apricot jam, banana forward wheat profile. No bitterness.
Mouthfeel: Full bodied. Juicy. Moderate bubbles.
Overall: Super refreshing, and the alcohol is so well hidden.