Green Flash / Founders Linchpin White IPA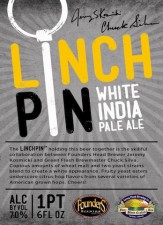 From Green Flash – A beer with so many components can be held together with a "Linchpin". The official "Linchpin" of this beer is the skillful collaboration between the two breweries to create a unique hop-forward brew. Linchpins are symbolic: two simple shapes that combine to strengthen a bond amongst many different pieces. Linchpin White IPA will be released during the May 2012 Craft Brewers Conference in San Diego and will then be available in limited supply via bottle-conditioned 22oz bottles and by the keg for special release events nationally in May and June 2012.
Green Flash Brewing in Collaboration with Founders Brewing – Green Flash / Founders Linchpin White IPA – 22 oz. bottle poured into a goblet. 7% abv.
Appearance:  Pours a cloudy amber tinted yellow gold with a soapy white head.
Aroma:  Big grassy and citrus hops, bread dough and soft spice note.
Taste:  Bitter Green Flash signature hops, citrus rind, witbier spice.
Mouthfeel:  Full bodied , creamy.
Overall: I got to try this when it was brand new, on cask at Hamiltons. It was pretty good then.  I had this at the beginning of July in bottle, and was a bit more muted.  While I am not a fan of the White IPA concept and subsequent executions of this experimental style, this beer was very drinkable. Instead of thinking this was a lame IPA, I'll say it was an awesome Wheat Ale.