Grand Teton Black Cauldron Imperial Stout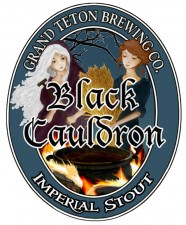 From Grand Teton Brewing – There are few styles of beer more flavorful than Imperial Stout. Our thick, rich version was brewed with plenty of caramel and roasted malts and subtly spiced with American Chinook and Styrian Goldings hops. We've accentuated the natural smokiness of the brew by adding a small amount of beechwood-smoked malt. At 22 degrees starting gravity and 8.0% alcohol by volume, this beer boasts flavors of chocolate and coffee, along with raisins and dried fruit soaked in sherry.
Grand Teton Brewing – Black Cauldron Imperial Stout – 12 oz. bottle poured into a goblet. 8.0% abv
Appearance: Pours like thick black motor oil with a decent layer of khaki froth atop.

Aroma: Strong aromas of roasted malt, coffee, semi-sweet chocolate and a bit of dark fruit in there as well.
Taste: Lots of roast, a bit burnt malts, moderate earthy hop bitterness, finishes with dry dark roast and dark chocolate.
Mouthfeel: Full bodied and creamy.
Overall: A nice roasty dry Imperial Stout.  If you like something like Old Rasputin, you should definitely like this, as it has a nicer mouthfeel with all the same flavors.