Goose Island Christmas Ale 2009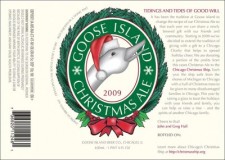 From Goose Island – Every year to celebrate the holiday season, we brew up our Christmas Ale, and with each year we change the recipe slightly so that you have something special to look forward to. Traditionally, our Christmas Ale is a complex brown ale that develops well in the bottle for up to five years.
Goose Island Brewing – Goose Island Christmas Ale 2009 – 22 oz. bottle poured into a goblet. 5.7% abv.
Appearance: Pours a dark ruby with a creamy 1/4 inch off white head.

Aroma: Sweet fruity malt,red berry
Taste: Toasted malt, toffee, red berry,spicy piny hops.
Mouthfeel: Full bodied with a layer of creaminess from the head.
Overall: A very balanced, flavorful Christmas Ale. Totally reminds me of Christmas. I may be so bold as to put this up there with Anchor Christmas in terms of world class Christmas beers.